It's a Candidate-Driven Market that is Only Getting More Competitive.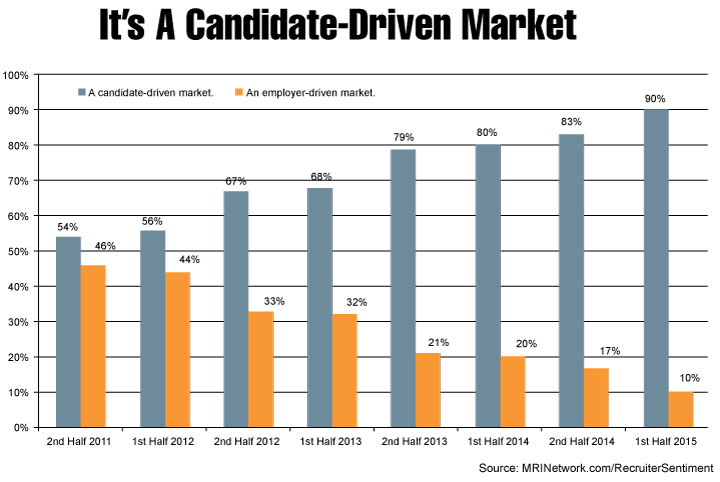 This is certainly something that we have to keep in mind during our recruiting efforts on each position.

As we recruit candidates who are currently employed (90% of the candidates we place are currently employed), we need to understand that it's not just about an increase in pay that drives candidate decisions.

Candidates today are looking for a work/life balance, an employer that appreciates their efforts and communicates that appreciation, flexibility in work hours, and a good 401k and/or retirement program.

Ultimately the prospective job seeker is looking for a company that wants them to become part of their family, not just a commodity that collects a paycheck.
We recently placed two candidates that wanted to share their stories with you.
             
CANDIDATE #1

It was my pleasure to work with Superior Search Group recently.  They were recruiting for a position in my field and I am glad I returned their call.

They handled all of the arrangements for interviews, provided me with detailed information about the position and company, with detailed bullet points on what the company was looking for.

They prepped me and outlined a game plan prior to each interview.  Their advice and guidance turned out to be spot on.

I have always been curious to how celebrities and professional athletes feel having agents representing them.  I now understand how they feel and I have to admit, it felt great!

I was offered the position and am now working for a company that I love.

Superior Search Group opened that door for me and guided me through the entire process.

If you get a chance to experience SUPERIOR service for yourself, I highly recommend it.
CANDIDATE #2

I was contacted by a recruiter from Superior Search Group about a new opportunity. After learning more about the company and reviewing the job description, I was interested.

My initial expectations were the recruiter would simply see if I was qualified and interested in the position, and then send my resume to the employer.

After additional conversations with the recruiter, it became clear that they weren't just haphazardly picking out candidates and sending them to the employer. They wanted the best fit of qualifications and cultural for both client and candidate.

The recruiter took the time to get to know me on a personal level, and was just as interested in my career expectations as he was recruiting for the position.

The interview process got under way and they prepared and assisted me throughout the process. I was offered the position, accepted and they continued to guide me through the on-boarding steps.

It is not common to be able to say you enjoy going to work every morning, but because of the extra attention that the recruiter from Superior Search Group gave to matching both employer and employee, I am able to happily go to my job every day and give 100% of my effort.
---
For additional information contact:

Jeff DiPaolo
Managing Director
Superior Search Group
jdipaolo@superiorsearchgroup.com
330-983-2736